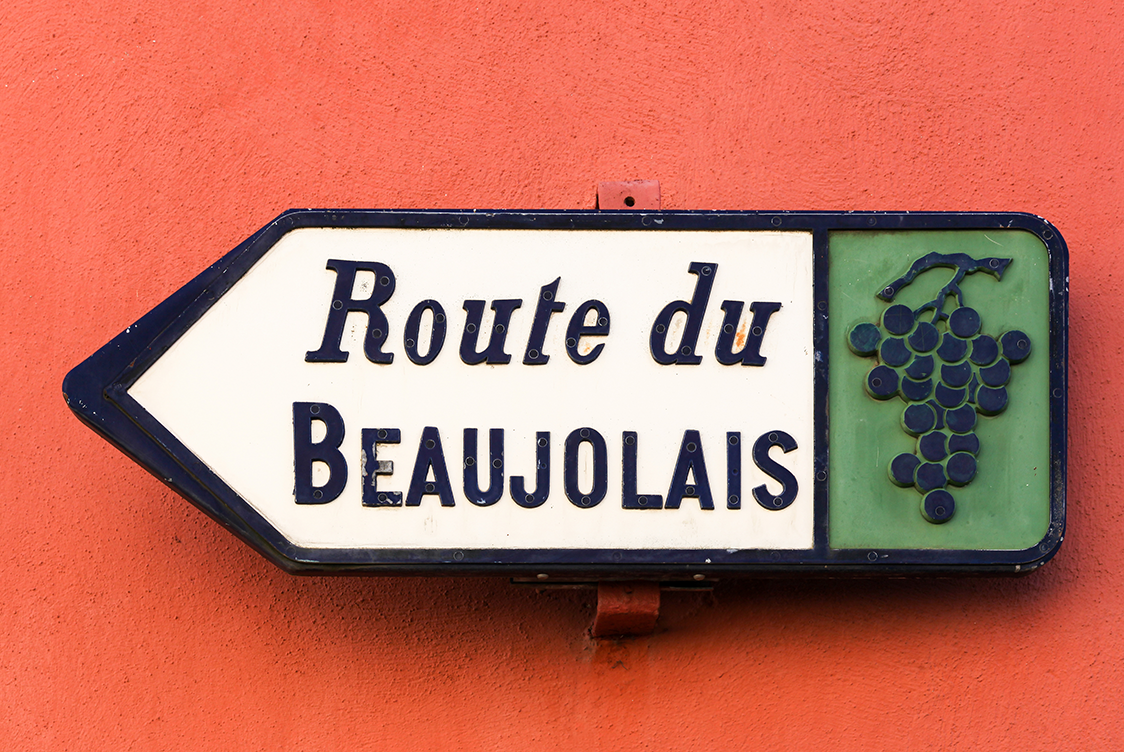 The Beaujolais region is filled with vast and luscious vineyards stretching as far as the eye can see. The vines were first planted by the Romans, keen to quench the thirst of their weary soldiers. For some time, Beaujolais was regarded as Burgundy's 'less prestigious' sibling and the Gamay grapes harvested here were not always well-received.
However, in the nineteenth century a railway would be built to connect Beaujolais to Paris and the region became instantly more accessible. Beaujolais wine soon became a fashionable and sought-after choice in Parisian bistros across the city. As time went by the popularity of Beaujolais wine continued to soar, making it one of today's most widely appreciated wines.
Why is Beaujolais wine so popular?
Beaujolais wine is light-bodied and fresh. It typically exudes deep, rich tones of dark fruit and soft tannins. Earthy notes are followed by cinnamon undertones and the fruitiness of blackberry, cherry and raspberry. This versatile wine is wonderfully drinkable and can be paired with a wide range of foods to suit every occasion. Beaujolais wine is also typically affordably priced and widely accessible, making it the perfect wine choice for everyone.
Characteristics of the Gamay grape
The Gamay grape thrives in the granite soil of Beaujolais, these grapes ripen quicker than those of the pinot noir but still pose some challenges when growing and farming. 10,000 vines per hectare are planted densely in Beaujolais. The vines are cut low and pruned quite intensely. In many vineyards it isn't practical for machinery to be used, so the harvesting is still completed by hand in traditional and much more labour intensive methods.
How do you drink Beaujolais?
Beaujolais wine is best served chilled. Serve in red wine glasses at a temperature of about 55 degrees Fahrenheit. This can be achieved by placing the wine in the refrigerator for 10-15 minutes. It is thought that Beaujolais wine is best when consumed within the first year or two of bottling. Some of the higher quality cru Beaujolais are capable of aging for up to ten years. However, Beaujolais Nouveau is low in tannins. This prevents it from aging well, so this wine should be consumed within 6 months of being bottled.
What are the three different quality levels of Beaujolais?
Beaujolais wine has three different levels of quality:
Beaujolais AOP – Beaujolais AOP accounts for the majority of Beaujolais nouveau and about half of all Beaujolais wine in general. Beaujolais AOP consists of all 96 winemaking villages and produces the more basic, well-rounded wines with a deliciously fruity flavour.
Beaujolais-Villages AOC – these wines come from 39 villages with granite based soil. These offer mineral notes and a more sophisticated intensity and flavour. Village names will often be listed on the label.
Cru Beaujolais – There are many areas and individual villages which have their AOC. The top ten are: Chiroubles, Moulin-a-Vent, Juliénas, Chénas, Fleurie, Morgon, Régnié, Brouilly, Saint-Amour, and Côtes de Brouilly. With more complex personalities and depths, these wines age well. This makes them a safe bet for anyone seeking a high-quality Beaujolais wine.
What goes well with Beaujolais wine?
There are many excellent food pairings for Beaujolais wine. This versatile wine lends itself well to a number of different flavours and dishes. Beaujolais wine is exceptionally paired with white meats such as chicken and turkey. It has been widely hailed as the perfect wine for thanksgiving celebrations due to this.
When pairing Beaujolais wine with fish, choose good quality fatty fish such as tuna or salmon. Oysters and creamy pasta dishes are also a delicious match for some of the Cru Beaujolais varieties.
A good Beaujolais wine also pairs well with picnic snacks and charcuterie boards. Be sure to add creamy cheeses such as Camembert and Brie to your charcuterie board to help bring out the natural flavour of the wine.