Merlot
Merlot is a dark, blue-coloured grape that is used for blending grape and single varietal wines. The Merlot grape is known for its dark colour and the name is probably derived from the French word merle, which means the blackbird. Merlot has a softness and ripes early so makes it easier to grow and blends perfectly well with the much more tannic Cabernet Sauvignon. The most well-known Merlot wines come from Bordeaux, on the right-bank of Bordeaux it's very often the most grown grape, appellations like Saint-emilion or Pomerol use predominantly merlot in their wines. On the left-bank of Bordeaux they are blended with Cabernet Sauvignon to add some softness to the wines, wines from Medoc are nearly always a blend of the 2 above. The aging potential of the wines depends on a lot as to when the grapes are harvested, with early harvesting they keep more acidity which allows them to become long aging wines. The most famous example is Chateau Petrus, their wines should only be drank after at least 15 years of aging and sometimes they can age for 50 years and only get better. If the harvest is done later, then the grape will become richer but it can quickly overripe and become jammy.
Show Filters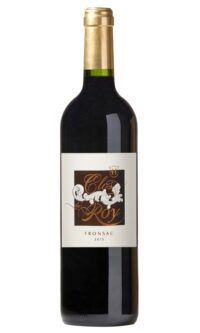 From
£

19.05
per bottle
Per mix of six
Added to cart
Find out more
The other region of France that produces a lot of Merlot is the Languedoc-Roussillon; the plantations there have increased a lot over the past few decades because of the Merlot grape being easy to grow and reasonably resistant to diseases. The main characteristics of Merlot wine are notes of Cassis, red and black cherries and blackberry, the earthy notes would be found in black olives, fennel, leather and mushrooms. When the wine spends a lot of time in oak notes of caramel, chocolate and coffee will appear. The diversity that Merlot wines can offer make them a good pairing wine with a large range of foods from shellfish for the lighter style merlot to grilled meats for the stronger styled merlot wines.
At Wine Affairs, we offer a nice choice of merlot-based wines like the Bordeaux Cadillac from Chateau Brethous that is 100% merlot and offers amazing value for money, or the Saint-Emilion grand cru from Vignobles Bardet is another stunning wine.