Syrah
Syrah, also known as Shiraz in certain countries is a dark-skinned grape which produces predominantly red wine but is also used as a blending partner in some rosé wines.
The grape is predominantly grown in France in the Rhone region, where it is used to be blended with other grapes like Grenache & Mourvedre.
The wines made from Syrah are very dependent on the climate. When they are grown in a hot the climate, the jammier the wine will become. The wines will have medium to full body with also medium to high tannins.
The southern Rhone will mainly only sell Syrah blended with other grapes, and the so called "GSM blend" is very popular and produces some very nice generic  Cote Du Rhone, the one we stock at Wineaffairs from Domaine Maby is a perfect example of this. It is easy to drink when slightly chilled at around 16 degrees. Another excellent example is the the Cote de Ventoux from domaine Pieblanc.
Syrah is also found in a lot of fancier appellations like Chateauneuf-du-pape or Lirac, a few of those wines that are definitely worth a try is the Nessum Dorma from Maby or the Chateauneuf-du-pape from domaine Duseigneur, these wines are very full bodied and can age for a long time.
Show Filters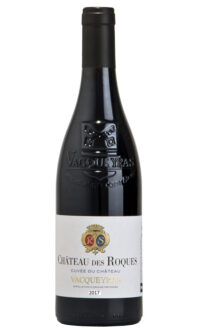 From
£

16.95
per bottle
Per mix of six
Added to cart
Find out more
In the Languedoc-Roussillon they also use Syrah in a lot of blended wines like the Corbieres from Haute Fontaine, they will very often be blended with Grenache or Carignan and Mourvedre.
These wines offer a very interesting price point, they have lesser reputation then the northern Rhone ones. We recommend trying the Domaine Montfin red's, you won't be disappointed.
And last but not least is the famous Provence Rosé, very often the Rosé is made with a part of Syrah grapes.