Cotes du Rhone Region Wine
Cotes du Rhone is a wine-growing appellation within the Rhone Valley where wines have been produced since pre-Roman times. The vines stretch from just south of Lyon all the way to the Mediterranian Sea and are divided into 2 big sub-regions called Rhone Septentrionale and Rhone Meridionale.
The first one is the most inland and includes very fancy appellations like Cote-Rotie or Saint-Joseph and Crozes-Hermitage for red wines and Condrieu or Hermitage for some very high-end whites.
The red wines in this part are very often made from 100% Syrah
and the whites from Viognier or Roussane and Marsanne.
Some of the wines in this northern part of the Rhone Valley are capable of aging for decades and sell for astronomical prices.
The harvest is particularly difficult because the grapes are grown on very steep slopes but this adds a lot to the quality of wines.
Show Filters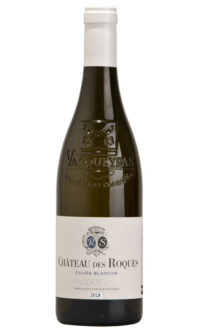 From
£

16.80
per bottle
Per mix of six
Added to cart
Find out more
The Rhone Meridionale produces from simple AOC Cote Du Rhone to impressive names like Chateauneuf-du-Pape or Gigondas and Vacqueras.
The predominant grape for red wine is Grenache with Mourvedre and Syrah.
The alcohol content tends to be high because the climate is warm and the grapes contain a lot of natural sugar that then turns into alcohol during the fermentation, it is not rare to see a Chateauneuf-du-Pape reach 15° abv or even more.
The high content of sugar in the grapes makes it very often an easy wine to drink and is called a crowd-pleaser.
The white wines would be from a mix of Clairette, Grenache blanc, Marsanne, Roussane and Viognier.
Chateauneuf-du-pape has since 2009 eighteen different grape varieties listed that are authorized but you can safely say that the majority is Grenache noir for the big bold reds. If you would like a cheaper option then Chateauneuf-du-Pape we would recommend looking at Lirac, it has the same style of soil with the famous rolling stones and the price tag is much lower.