Champagne Wine
The Champagne region is located in the northeast of France just between Paris and Belgium. It can be found just under 100 miles east of Paris and includes the Ardennes, Aube, Haute-Marne, and Marne departments. To use the word Champagne your grapes need to be from one of the above places.
A lot of other regions and countries now make sparkling wines using the same methods as developed in Champagne but all of them will have to use a different name, the second most popular in France would be Crémant.
Champagne is synonymous with sophistication and the most luxurious celebrations. A symbol of decadence, power, and class, this most renowned sparkling wine is perfect for events and special occasions.
Show Filters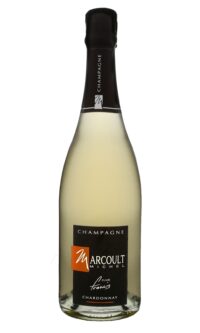 From
£

25.90
per bottle
Find out more
There are loads of other rules to abide by before you can call yourself Champagne, the first one is to use only Pinot-noir, Pinot-Meunier, or Chardonnay as grape varieties.
With these 3 varieties, you can blend as you want or make single-variety wines, Chardonnay only would be called Blanc de Blancs, white juice from white grapes. Pinot-noir and Pinot-Meunier would be Blanc de Noirs, white juice from black grapes.
Another very important rule is that the second fermentation takes place in the bottle and that is how you capture the bubbles.
Big Champagne houses have massive advertising budgets and you will see them on fancy events very often, we would recommend you try some grower champagnes, actual winemakers that do everything themselves, from growing the grapes to bottling and letting age in their cellars.
Try our dynamic winemaker Michel Marcoult and you won't be disappointed, they are very innovative and extremely eco-friendly and produce amazing wines.