Our Guide To Cotes Du Rhone Wine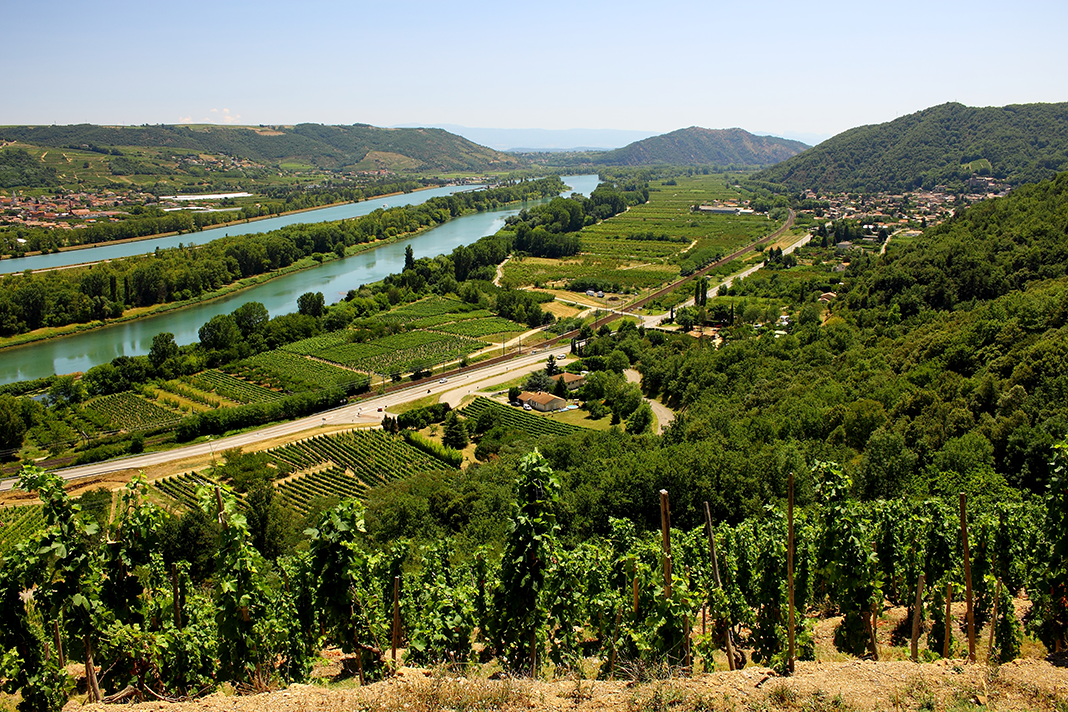 Cotes du Rhone wine carries with it a certain Southern charm, and rightly so as this region is renowned for producing incredibly popular early drinking wines that are a real hit with consumers. The Cotes du Rhone wine region has a longstanding history of beautiful vineyards and delicious wines. The Romans were said to have been the first to really establish and cultivate these vineyards as they made their way through the area. The Rhone would serve as their highway through France and the vineyards would become widely established along the way, providing a generous drinking source.
Cotes du Rhone is the second largest appellation in France, producing 100 million dollars' worth of wine every year. England is one of the largest purchasers of wine from this region, closely followed by France. 31,926 hectares of the Cotes du Rhone are actually under vine and the soil types vary from stony, to a mix of sand, pebbles and more.
What type of wine is Cotes du Rhone?
Cotes Du Rhone wine is an early-drinking wine. Although some can benefit from being aged in the cellar, the majority of wines from the Cotes Du Rhone region do not require ageing and taste delicious on release. With an affordable price point and luxurious quality, it's easy to see why their popularity continues to rise. Cotes Du Rhone wine tends to be full-bodied, fruity and sweet with a delicately spiced finish. They can carry notes of dark fruits such as blackberries and cherries and are versatile enough to be paired with a variety of dishes.
What is the best Cote du Rhone wine?
Cotes Du Rhone wine is divided into four different levels of quality with the best arguably being the Crus. These levels are:
Cotes Du Rhone AOC – generally classed as 'entry level' classification, this makes up around 50% of Cotes Du Rhone wines. Syrah or Grenache grapes are used in these blends and the wines themselves must have a minimum of 11% alcohol level. These wines are perfect for every occasion and are delicate, fresh and easy to drink.
Cotes Du Rhone Villages AOC – these wines can age well and have a slightly higher alcohol content, making them the next choice if you are looking to improve on quality. These have lower yields and higher complexities.
Cotes Du Rhone Named Villages AOC – there are 21 villages that are allowed to declare their names. These are: Vaison la Romaine, Visan, St-Pantaléon-les-Vignes, Séguret, Suze-la-Rousse, Sainte-Cécile, Vinsobres, Sablet, Sinargues, Valréas, Rochegude, Chusclan, Rousset-les-Vignes, 
The Crus – A total of 17 crus make up around 20% of the wine production in the Cotes Du Rhone region. Some of the best Cotes Du Rhone wine offerings are considered to be from these crus: Châteauneuf-du-Pape AOP, Cairanne AOP (elevated in 2016), Gigondas AOP, Lirac AOP, Tavel AOP, Beaumes des Venise AOP, Rasteau AOP (changed in 2009), Vacqueyras AOP, Vinsorbes AOP (elevated 2006), Condrieu AOP, Saint Péray AOP, Château-Grillet AOP, Côte-Rôtie AOP, Crozes-Hermitage AOP, Hermitage AOP, Saint-Joseph AOP and Cornas AOP.
Are Cotes du Rhone wines full bodied?
Cotes Du Rhone wine is generally a fantastic example of a great medium to full-bodied wine. These flavourful wines are renowned for their fruity taste and red berry notes.
What goes well with Cotes du Rhone wine?
Thanks to its versatile nature, there are many dishes that pair well with Cotes Du Rhone wine. Typically Cotes Du Rhone wine can be enjoyed with beef, lamb and game. They perfectly compliment rich dishes but work equally well with a refreshing salad and shellfish. They also make a wonderful accompaniment to your charcuterie boards and cheese platters! Ideal for romantic nights in or to impress your guests.